Classic sandwiches with a turkey twist
This article was originally published in November 2014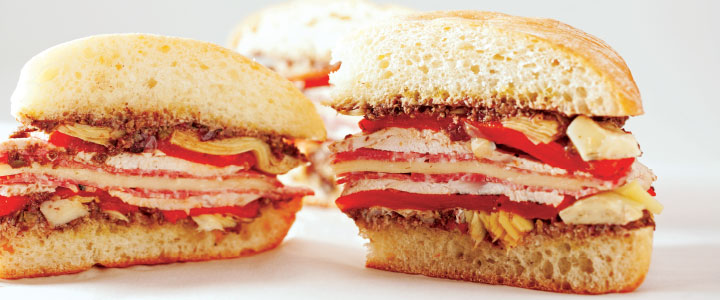 Inspired by some of the world's great sandwiches, these suggestions will take your leftover turkey in a whole new direction. Hot or cold, dark meat or white, you're just a few minutes away from a great meal.
Muffuletta
Bread: Ciabatta or Kaiser roll

Spread: Olive spread, marinated artichokes, roasted red peppers

Meat: Dark and white meat turkey, salami

Cheese: Provolone
California Reuben
Bread: Caraway rye
Spread: Thousand Island dressing, sauerkraut
Meat: White meat turkey
Cheese: swiss
Torta
Bread: French roll
Spread: Refried black beans, mayo, guacamole
Meat: Dark meat turkey
Cheese: Queso Oaxaca or Queso Botanero
Turkey Gyro
Bread: Pita
Spread: Karam's Garlic Sauce, hummus
Meat: Warmed up dark meat turkey
Cheese: Feta
Autumn Club (Grilled)
Bread: Multigrain
Spread: Caramelized onions and apples, stone ground mustard
Meat: White meat turkey, pepper bacon
Cheese: Sharp cheddar
Find the fixings
Breads
Locally baked Bread Garden Arabic pita is one of our bestselling pita breads, available in both white and whole wheat. We also offer gluten-free bread and several that are based on less common grains like spelt or kamut, along with offerings from local bakeries like Wild Wheat and The Essential Baking Co.
Spreads
From organic Annie's Thousand Island dressing to a broad array of tapenades and local sauerkrauts, our high quality condiments will upgrade your sandwiches to truly outstanding. Try Firefly Kitchens Ruby Red Kraut in the California Reuben for a gorgeous fuchsia layer.
Cheeses
The PCC Deli has classic choices like thin-sliced sharp cheddar (it's the perfect cheese for the Autumn Club) while our cheese department has everything your dairy-loving heart desires, including creamy Amaltheia Dairy organic feta, which is less salty than typical feta.