October celebrates Co-ops, Non-GMO and Fair Trade
This article was originally published in October 2017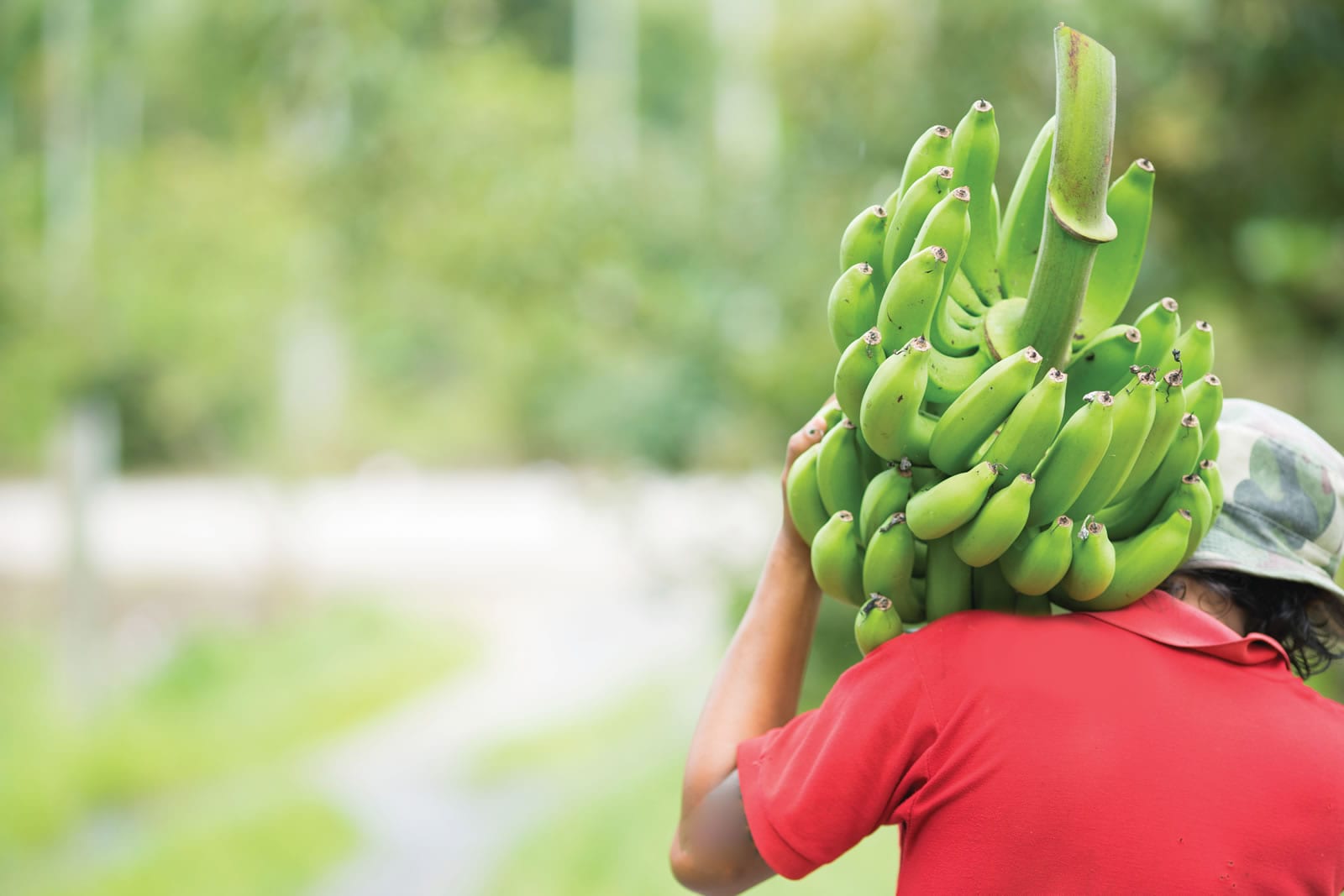 There are so many reasons to celebrate food in October! Not only is it the peak of harvest season in the Pacific Northwest but it also is designated Fair Trade Month, Co-op Month, and Non-GMO Month!
To help raise awareness about each of their positive impacts on our food system, we're sharing some PCC staff picks of favorite products that are produced with fair labor or are fairly traded, are Non-GMO Project Verified, and/or produced by co-operatives.
Fair labor, Fair Trade
Organics Unlimited GROW bananas
We think these fair labor bananas consistently have the best flavor and texture. Also a portion of every purchase supports farmworker communities with health services, childhood education, safe water projects, and educational scholarships in Mexico and Ecuador. PCC absorbs the cost of donations and has contributed $229,612 to farmworker communities since 2006.
— Kevin at the office
Alter Eco Chocolate
These single-origin chocolates also are organic and Carbon Neutral Certified, and wrapped in compostable packaging instead of polyethylene. My fave is the intensely unsweet 90% Super Dark Blackout, very smooth with a hint of organic vanilla. But the Dark Salt & Malt is a close second!
— Trudy at the office
Theo Chocolate
Theo's Dark Chocolate with Chili Pepper. The spiciness provides a delightful counterpoint to the rich, luscious chocolate.
— Bryan at Fremont
Tony's Chocolonely
It not only breaks apart in irregular segments as a reminder of inequality in the chocolate trade, but in my opinion it tastes better than any other chocolate brand we sell (and we sell a lot of good ones). Favorite flavor? The 32% Milk Caramel Sea Salt. But they're all great.
— Matthew at the office
Dr. Bronner's Rose Castile Soap
I'm from the Encinitas, California area and I know this guy personally. What a PHENOMONAL human. I use all of his products regularly. I use the rose-scented soap every day in the shower. I also love the peppermint castile soap, which I use as my laundry detergent.
— Cyera at Columbia City
Badger SunScreen
I love the Badger Lavender scented Sunscreen because it goes on like a lotion and is not greasy, rubs in well, and smells natural and fresh!
— Cate at the office
Alaffia!
The Everyday Shea Butter Tangerine Citrus Balm softens the skin on my feet and elbows. I also use it in my hair instead of the texture clay pushed by my salon – cheaper and no nasty chemicals! Also love the coconut mint lip balm and the hydrating shampoo. Great products at a great value. I love that it supports African communities and works to bring gender equality to these communities.
— Marie at the office
Produced by a Co-op
La Riojana Malbec
We all LOVE this Fair Trade Certified, cooperatively-farmed coop exclusive. It really over-delivers for its $9 price point! It's a great wine with the added bonus of the warm fuzzies you get from supporting a farmer's cooperative!
— Brendan at Greenlake Aurora
A fantastic, full bodied red wine. Best served alongside steak with friends.
— Bryan at Fremont
Frontier Herbs
For decades, the Frontier Co-op has maintained a high level of quality through unwavering dedication to integrity (bulk and packaged). When we are unable to get Frontier products, it usually is because Frontier is refusing shipments because of quality concerns. It would rather forgo profits than sell sub-standard herbs.
— Bryan at View Ridge
Dr. Hauschka Rose Day Cream
The organic roses of this delicate facial cream are from a co-op of 400 farmers growing Damask roses on 148 acres of land in Afghanistan. This restores an ancient Afghan tradition and also combats the opium trade.
— Marilyn at the office
PCC Korean Beef Short Ribs
I love our chef-inspired, ready-to-cook Korean Beef Short Ribs because we marinate them for an extended time to really create lots of flavor. The extra-thin slices cook up fast on the grill with plenty of crispy, blackened bits.
— Cate at the office
Equal Exchange
The Equal Exchange Love Buzz coffee and the Mind, Body and Soul coffee both make a perfect cup: organic, fair trade, and co-op owned and produced. Quite stimulating on so many levels!
— Agnieszka at Issaquah
Andes Gifts Knitted woolens
Artisan gloves, hats and scarves from womens' knitting cooperatives in the rural highlands of Peru and Bolivia. Your purchase supports sustainable wages, year-round. Coming to stores soon for the holiday season.
— Helen at the office
Non-GMO Verified
Hardbite Drop'N Mad Beets
These colorful beet chips are surprisingly delicious, especially for a vegetable many people avoid. I have converted many beet-averse friends with this perfect "gateway" beet food. Great taste, low sodium, and a rockin' name make these a personal favorite!
— Nick at the office
Inca Crops Plantain Chips
These chips are gluten-free and such a good, crunchy pick-me-up. Very fun packaging. The bag design is so nice.
— Agnieszka at Issaquah
Barnana Chewy Banana Bites
OMG, I am in love with the organic Peanut Butter Chewy Banana Bites. They're made from "imperfect" bananas that are upcycled into tasty treats. It's like a peanut butter and banana sandwich without the bread!
— Kathryn at the office
Pure Country Pork
From Paul and Karrie Klingeman in Ephrata, Washington, who had the courage and foresight to become the first meat brand in the USA to earn Non-GMO Project Verification. The Rustic Bacon is the best bacon I've ever had. Bake it in a 325-degree oven till crispy!
— staff name withheld on request
Country Natural Beef
Fourteen ranching families saw the future in 1986 and formed a co-op to produce range-grazed beef without artificial hormones or antibiotics. Today, it's also Non-GMO Project Verified. Beef tastes better when you know how it's raised!
— Barbara at the office
Yogi Chai Black Tea
I am in LOVE with this chai. It is a morning routine for me. It's amazing with some vanilla almond milk and honey.
— Cyera at Columbia City
Angie's Boomchickapop Popcorn
Flavorful, made with simple ingredients, and just 35-70 calories per cup, depending on the flavor. Angie's popcorn is a guilt-free bestselling snack at PCC. In Sea Salt, White Cheddar, and Sweet and Salty flavors. You'll want to eat the whole bag!
— Scott at the office
In season organic produce
Organic Pink Lady Apples — the new crop from Broetje Orchards, Wash.
Organic Fuji Apples — 3 pounds in a bag. Proceeds support Farm-to-School programs on food and nutrition for children throughout the greater Seattle area. Grown by several Washington orchards.
Organic Cameo Apples — from River Valley Organics, Wash.
Organic Fuyu Persimmons — from Beck Grove Organics, Calif.
Organic Pomegranates — from Twin Girls Farm, Calif.
Organic Jack O'Lantern and Sugar Pie Pumpkins — from Rents Due Ranch, Stanwood, Wash.