Why the Farmland Fund?
This article was originally published in January 2001
Before the 2000 census, the United States Census Bureau announced it would "no longer count the number of Americans who live on farms." According to census figures, the number of U.S. farming people had declined for 41 years by nearly half-a-million people a year. By 1991, 32 percent of farm managers and 86 percent of farm workers did not live on the land they farmed.
Here in Washington, residential and commercial development continues to take one acre of Washington State resource land every eight minutes. We lost nearly 200 acres each day between 1992 and 1997. In that decade, Western Washington lost 180 farms per year, four farms per week. That's 8,825 acres per year, 25 acres per day. The Puget Sound region is fifth among the most threatened agricultural landscapes in the nation.
British supermarket chains are responding to the loss of their national farmland by buying up acreage in the Caribbean and Central America, another form of globalization. PCC's Farmland Fund takes a different road:
Saving local farmland: Slowing loss of farms and farming communities; ensuring fresh, organic produce; providing farming livelihood for the next generation and passing on organic farming skills.
Protecting habitat: demonstrating farming/habitat partnership and the benefits of organic farming on water quality, salmon recovery and wetlands restoration.
Farmer/writer/activist Wendell Berry says healthy community includes an acquaintance and connection between urban and rural people and the loyalty of people in cities and towns to locally grown food. The Farmland Fund is part of this larger vision of "an economy whose aim is generosity and a well-distributed and safeguarded abundance."
Sources: US Census Bureau, USDA Natural Resource Conservation Service and USDA National Agricultural Statistics Service
---
PCC Farmland Fund wins award
The PCC Farmland Fund has been named a "Founder of a New Northwest" for 2000. The honor is awarded by Sustainable Northwest in Portland "to recognize individuals, communities and businesses in the Pacific Northwest who have found ways to reconcile economic progress with environmental health and social equity."
Pledges, promise and resolution
Progressive businesses are saving farmland. In the last month, A Moveable Feast, Blue Willow Tea Company, Choice Organic Teas, Essential Foods, Essential Baking, Ground Up (six yards of compost), Newman's Own and Pacific Lamp and Supply gave important support to the Farmland Fund. Remember their names when you shop!
Essential Foods/Essential Baking Company
Essential Foods, Inc. and Essential Baking Company have shared the success of their work by lending the Fund a total of $100,000 for two years at two percent interest. The owner of Essential Foods Jeff Fairhall, explains why.
"Since I made and sold the first Essential Sandwiches in 1988, Essential Foods and The Essential Baking Co. have been guided by an intention to support efforts to create a more just and sustainable society. Our commitment to utilizing organically grown ingredients and our ongoing support of socially and environmentally progressive causes are expressions of this. The Farmland Fund is a significant opportunity to put this intention into practice and I am happy to be a partner with PCC and others in this effort.
"For too long, there has been an imbalance in the flow of value between land and city. On a societal level, farms and rural economies are treated like colonies. The Fund will make farmland available to farmers who can't afford land priced for development. Efforts such as this, along with consumer support of Community Supported Agriculture (CSA) farms and farmers' markets and purchases of local produce at markets like PCC, are beginning to correct this imbalance.
"When we take a moment to consider the future, we remember that nature provides no assurances that we can rely indefinitely on energy and chemical intensive agriculture or on the extravagantly consumptive transport system that brings our food from long distances. Efforts to build and support a local and sustainable agriculture are worthy of our collective support. As a member of PCC, I applaud the establishment of the Fund and I hope that our example will inspire others to contribute."
— Jeff Fairhall, Owner
Essential Foods, Inc., Essential Baking Company
Blue Willow Tea Company
"Opening our new retail tea shop has required jumping through many hoops; finding parking for the company van was one of them. We've had the habit of purchasing off-street parking for 10 years. Still, 75 percent of our employees walk to work, conserving money, helping to improve air quality and adding to peace of mind.
"We questioned the necessity of paying for parking. Maybe we could pay for parking only when we needed it, or park on the street at a 'healthy walking distance.' Not paying ahead for parking might even encourage us to leave the car at home.
"We were mulling this over when the PCC Farmland Fund came to mind. We could support this important cause by reallocating our monthly parking fee to organic farms and farming — moving it from petrol to produce, from unsustainable to sustainable. That's when we decided to send our parking money to the countryside where it will help grow food. We encourage other companies to look for ways to save 'pin money' and transform our environment at the same time. Thank you, PCC, for offering us this special opportunity."
— Blue Willow Tea Company
Become a part of the Farmland Fund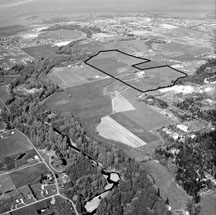 Why the Farmland Fund?
Rapid development is closing in on the last farmland left along the Dungeness River, near Sequim. Our Delta Farm (outlined below) is central to saving it.
by Jody Aliesan, President and Operating Officer